4PC DIY Self Centering Door Window Cabinet Hinge Hole Open T*wist Drill Bits Set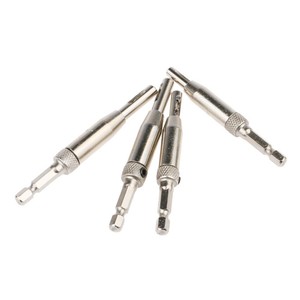 ---
See our other items

See our other items

4PCS DIY Self Centering Door Window Cabinet Hinge Hole Open Twist Drill Bits SetSKU: T10153599700319794Description:

100% Brand New! High quality High speed steel with a brass body designed, durable and excellent for useEasy to use and install, change bits fast which one-handed load and releaseDrill bush for precise positioning, will not shiftPositioning accuracy, will not shift, the chips will automatic discharge from the hole on either side of the top of the drill, not stuck drill.4 popular sizes used for carpenters, cabinet, furniture makers and other wood working tradesWorks equally well for metal, wood or plastic, a great helper for wood DIY and engineering useMaterial: Brass, HSS

Size: 

5/64'': Hole diameter is about 2 mm, Use about 2.2 - 2.8 mm tapping screw7/64'': Hole diameter is about 2.8 mm,Use about 3 - 3.5 mm tapping screw 9/64'': Hole diameter is about 3.5mm,Use about 4 - 4.5 mm tapping screw11/64'': Hole diameter is about 4.5mm,Use about 5 - 5.5 mm tapping screw

Package included:

4 x Wood Drill Bit Tools

Please kindly Note: Items will be repackaged to save your shipping charge & to be environmentally friendly. We guaranty the item will be protected well in buble bags, No retail box! 

A righteous man may have many troubles.