9/16-12 NC HSS Bottoming Tap New U.S.A. Made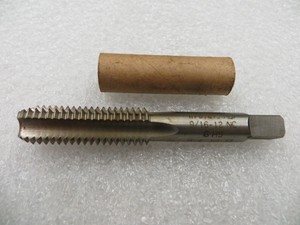 ---
9/16-12 NC HSS Bottoming Tap New U.S.A. Made Size: 9/16-12 National Course Style: Bottoming Tap GH5 High Speed Steel Number of Flutes: 4 Condition: New Country of Origin: U.S.A. Make: Pratt & Whitney Co. Hartford, CT. Over All Length: 3-5/8" Flute Length: 1-3/4" Our Ref: Box 81, 09-04-13

ATM SUPPLY CO. BUFFALO, NY

TERMS & CONDITIONS

PAYMENT - Full payment by buyer is to be made in 4 days from purchase. No items will be shipped until payment clears. An additional applicable N.Y. (8.75%) sales taxes may apply depending upon delivery/location. All prices are in U.S. funds.

SHIPPING & HANDLING -   We will pack, box, and ship this unit to the lower 48 states for $5.80 using GROUND SHIPPING using either USPS or UPS. If you require expedited shipping please contact us. $6.00 additional for shipment to Alaska, Hawaii, and Puerto Rico. We may combine shipping on multiple items, contact us for an estimate.  All shipping liabilities revert to the carrier once product is shipped.

RETURN POLICY- All Items are sold as listed. All items sold have a no return policy.

MACHINE USE - Buyer acknowledges that the goods covered by this quotation or invoice are used goods which were neither designed nor manufactured by seller. As seller does not know of the specific application of the equipment buyer, buyer acknowledges that is buyer's responsibility to provide proper safety devices and equipment for the particular application or use intended by buyer, so as to protect the operator and others from harm, and to comply with all federal, state and local government laws, rules and regulations relating to safety standards and all Industry safety standards.

INDEMNIFICATION - Buyer agrees to indemnify, hold harmless and defend Seller from and against any and all claims, demands, liabilities, costs or lawsuits arising out of or in any way involving injury or accident occasioned by said equipment.  Said agreement includes, but is not limited to, the duty to indemnify, hold harmless and defend Seller in any of the following situations: Claims involving or alleging improper or negligent design, maintenance, construction, reconstruction, repair, alteration or modification of the equipment by Seller, its agents or employees; claims involving allegations of failure, negligent or otherwise, on the part of the Seller to equip said equipment with safety devices or equipment as required by Federal, state or local government statutes, rules or regulations, or as is customary in the trade; and claims involving or alleging negligence by Seller, either alone or jointly with Buyer or any other person, firm or organization.  Buyer specifically agrees to indemnify, hold harmless and defend Seller from any and all claims alleging negligence on the part of Seller and waives benefit of any law, rules or regulations contrary to, or in the limitations of this Agreement.  If the Seller, in the enforcement of any part of this indemnity Agreement, shall incur necessary expenses or become obligated to attorney's fees or court costs, the Buyer agrees to reimburse the Seller for such expenses. The covenants expressed herein shall be severable and the invalidity, now or in the  future, of any of the covenants recited herein, shall not affect the validity of the remaining covenants.

DISCLAIMER -  Except as otherwise set forth herein, SELLER disclaims all warranties expressed and/or implied including warranties of merchantability, description and fitness for particular purpose. All specifications are offered merely as a guide and are approximate only, not binding.  SELLER does not warrant that equipment complies with OSHA safety standards, to safety standards of any governmental unit or any industry safety standard. BUYER acknowledges that compliance with such safety standards if BUYER'S sole responsibility. BUYER acknowledges that he has inspected the equipment and is satisfied with its condition.

FEEDBACK -  We are paying fees for Insertion, Final Value Fees of Items and PayPal for all our successful auction listings. Upon failure to pay the specific amount, we will file non-pay bidders on and block your account to do business with us in the future.